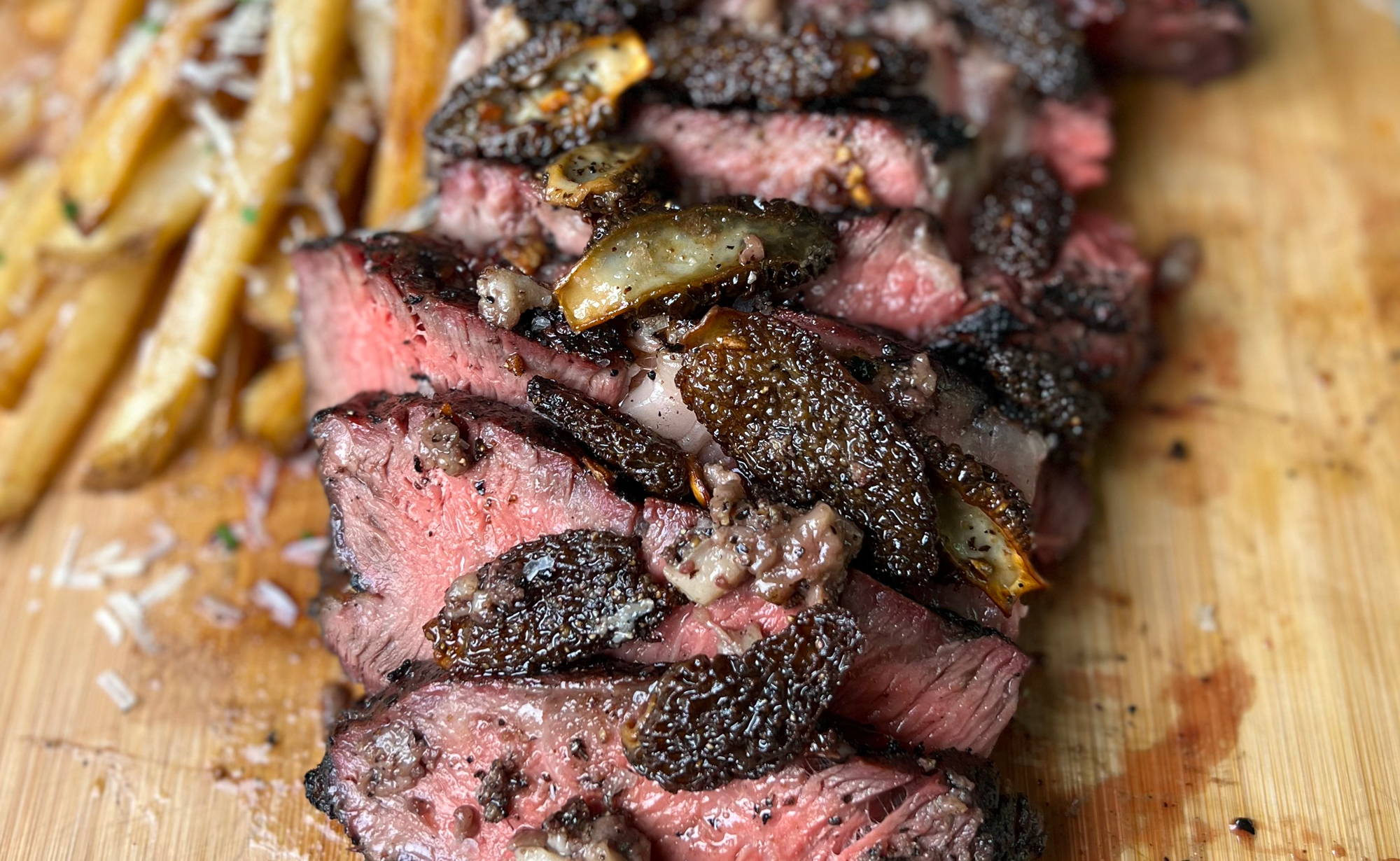 TOmahawk ribeye with bone marrow, morel mushrooms, & fries
Steak Frites, Simply Better.
Get ready to take your steak and fries meal to the next level with a legendary lineup of flavor-packed ingredients. For this particular recipe, we used a Certified ONYA® Tomahawk Ribeye for our steak, but this simple recipe can easily be pulled off with whatever steak you prefer or have on hand (if you're looking for recommendations, we'd suggest a ribeye, NY strip, flat iron, or sirloin steak). Next, we cooked up the Sultan of Shrooms, the Master of Mushroom, the Fantastical Fungai that are wild-picked morel mushrooms. Again, this recipe will still be a hit with any mushrooms, but if you're fortunate enough to get your hands on some morels you'll be glad you did. Finally, this recipe calls for some grilled bone marrow for the simple fact that bone marrow makes everything better. Served with homemade french fries, this meal is sure to secure its spot on your list of summertime favorites.
Read on for the full recipe ⤵️
Salting your steak at least an hour prior to cooking will help keep it juicy and form a beautiful crust
A russet potato works great for making homemade french fries.
Soaking your fries in ice water for several hours helps pull out the starch from the potato, which prevents the fries from sticking together and adds to the crispiness after frying.
We started this thick tomahawk ribeye on the smoker until it reached an internal temp of 120F
When you steak hits an internal temp of 120F, sear it over high heat to give it a beautiful crust.
Fry up your morel mushrooms and garlic in a pan with butter
Deep fry your homemade fries until they turn crispy and golden-brown
Slice into that medium rare steak, top with morel mushrooms, garlic, and bone marrow. Top fries with truffle oil and parmesan cheese.
• Salt your Certified ONYA® Tomahawk Ribeye (or steak of choice) for two hours.
• After the two hour mark, wipe away the excess moisture and season your steak.

• Slice up a russet potato to make some homemade fries.
• Soak the fries in ice cold water for two hours to pull out the starch.
• Smoke your steak at 225F until the internal temp reaches 120F (this took about 1 hour for the Tomahawk Ribeye used in this recipe).
• Season your bone marrow with olive oil, salt, pepper, and garlic
• Cook bone marrow along with your steak until rendered and bubbling.
• When your steak hits 120F internal, sear it over direct coals or high heat for two minutes each side.
• While your steak rests for 15 minutes, fry up your morel mushrooms & garlic.
• Deep fry your fries at 350F for about 5 minutes.
• Slice into your steak and top it with bone marrow, fried morel mushrooms, and garlic
• Serve fries and top them with truffle oil & parmesan cheese
Shop cuts featured in this recipe